Sarson Ka Saag (Sarson Da Saag)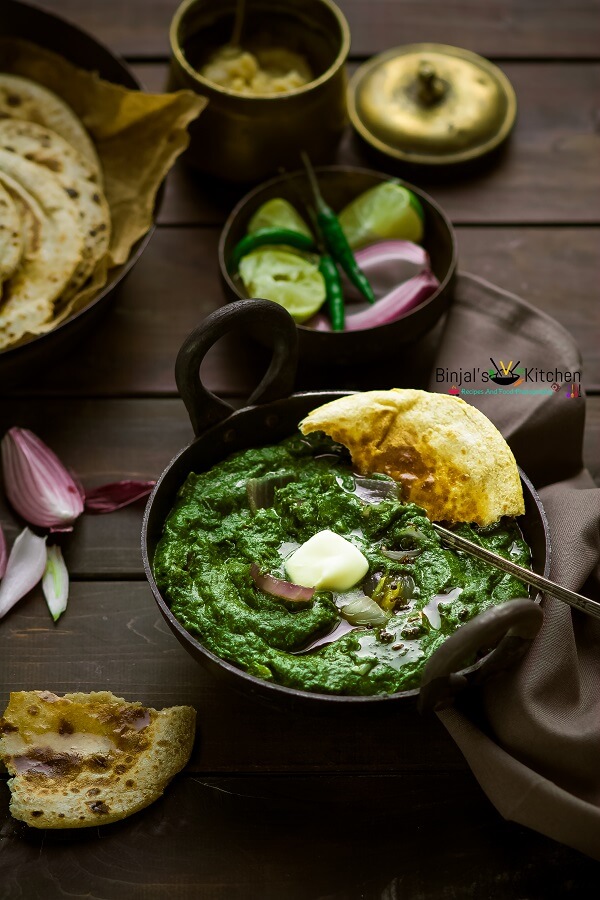 Recipe type:
Sabji & Curry
Spinach 1 bunch
Mustard Leaves 1 bunch
Rapini or Bathua 1 bunch
1 tbsp Ghee (Clarified Butter)
½ tbsp Mustard Oil
½ tsp Mustard Seeds
½ tsp Cumin Seed
Pinch of Hing
Chopped Onions ½ cup
4 tbsp Maize Flour
1 tsp Garam Masala
¼ tsp Red Chili Powder
2 tsp Ginger-Garlic Paste
1 tsp Green Chili paste
Salt
Wash and clean all green leafy veggies, then remove the hard steam part from the all leaves and keep aside.
Now boil the water in a big deep pan and add ¼ tsp salt. Once water starts boiling, add green leafy veggies in it and stir it for 2 mins or till soft.
Strain the cooked veggies thru strainer and pour cold water immediately over it to keep veggies color green.
Add strained veggies into the mixer/blender jar and blend it to a fine paste and keep aside.
Heat ghee and oil in a pan. Add mustard seeds, cumin seeds and pinch of hing, then add onions and cook on low flame till slightly golden, keep it little crunchy.
Add ginger garlic paste, green chili paste and stir continuously for a mins. Now add maize flour, mix well and sauté for 2-3 mins.
Add prepared greens paste of leaves, salt and ½ cup of water. Stir it and cook it for 2 mins, then add garam masala, red chili powder and stir it again for few minutes.
Sarson ka Saag is ready to serve, top it with white butter (mukhkhan) and serve it with makki ki roti or any flat bread with some chopped raw onion and enjoy.
• Pouring cold water immediately on boiled leaves is a best trick to keep leaves color fresh and green.
• You can add other veggies too like broccoli, Methi, Dill as per your taste.
• Add spice level as per your taste. You can skip red chili powder if it is too spicy.
• Use butter instead of ghee, you can skip mustard oil too.
Recipe by
Binjal's VEG Kitchen
at http://www.binjalsvegkitchen.com/sarson-ka-saag-sarson-da-saag/