Coconut Passion Fruit Panna Cotta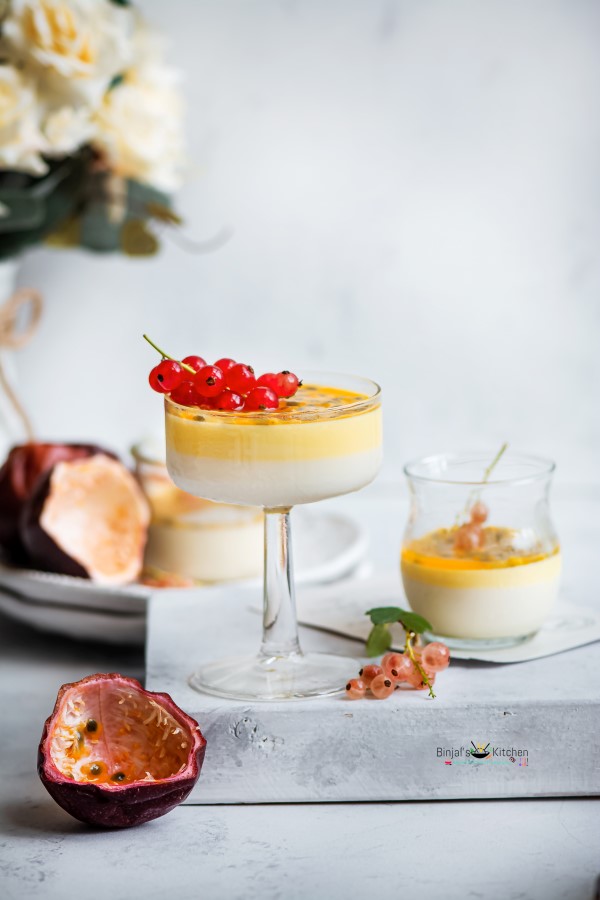 ½ cup Passion Fruit Juice (From 4 Passion Fruits)
500mL Coconut Full fat Milk
¼ cup Maple Syrup
2 tsp Agar Agar Powder (Vegan/Vegetarian Gelatin)
1 tsp Vanilla Extract
2 Passion Fruits Pulp for serving
4-6 Molds for Panna Cotta (depends on size)
Place the coconut milk in saucepan, then add the maple syrup, vanilla extract and mix it well.
Now Divide the milk into another saucepan equal part, add 1 tsp agar agar into the one milk pan mix it till dissolve properly, heat the milk and bring it to the boil.
Now take the molds and pour boiled milk till each molds fill half. Place the molds into the refrigerator for an hour to set bottom layer properly.
Take another half of milk pan add agar agar, mix it till dissolve properly and bring it to the boil, switch of the flame; add passion fruit juice mix it well and let it cool down for 5mins.
Now take the molds from refrigerator which we already prepared and placed inside to set the bottom layer, pour passion fruit milk mixture over it slowly with spoon and make another layer, place those molds again into the refrigerator to set properly for 4-5hrs.
Coconut Passion Fruit Panna Cotta is ready to serve with passion fruit pulp, remove it into the plate and top with pulp or serve as it is into the mold with pulp and enjoy.
You can use coconut cream instead of full cream milk to more creamy texture.
If you want to remove the panna cotta into the plate, just dip the chilled panna cotta molds into the hot water for 4-5 seconds and then turn it into the plate and serve.
Use deseeded passion fruit juice to make another layer, to make juice scoop out the pulp from fruit then strain it with tea strainer.
Recipe by
Binjal's VEG Kitchen
at http://www.binjalsvegkitchen.com/coconut-passion-fruit-panna-cotta/