Vegan Gluten Free Banana Bread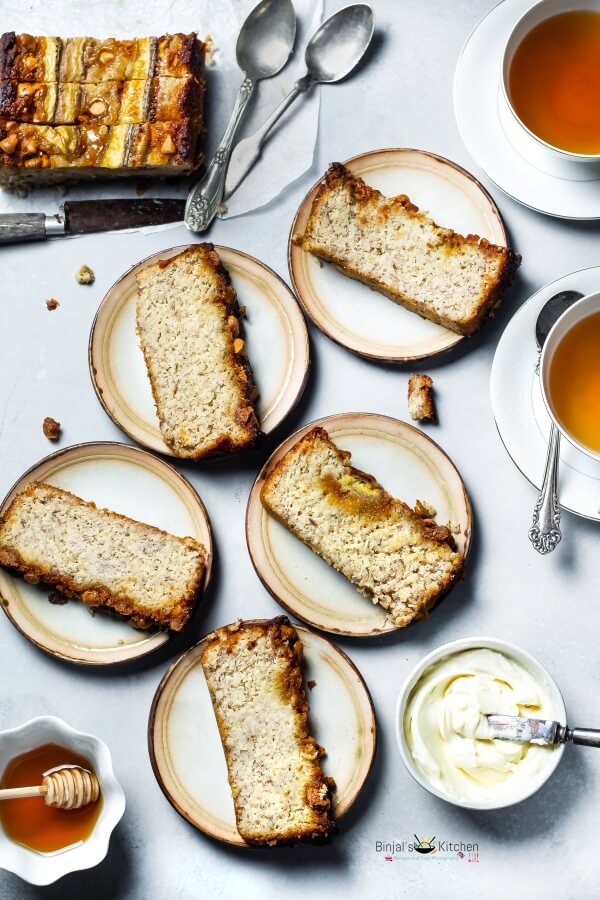 4 Ripe Banana + 1 for Topping
1 ½ cup Almond flour
1 cup Desiccated coconut
1 tsp Baking Powder
¼ cup Maple Syrup
¼ cup Olive Oil
1 tsp Vanilla Extract
¼ cup Dairy Free Milk
1 tsp Cinnamon Powder
Butterscotch Chips for Topping (Opt.)
Preheat the oven on 350F/175C.
Peel the skin of 4 bananas and then add in mixing bowl, mash it very well using fork.
Now add maple syrup, olive oil, vanilla extract, cinnamon powder, milk and mix it properly till all combine very well, keep aside.
In another mixing bowl, add almond flour, desiccated coconut, baking powder and mix it.
Now add prepared banana mixture into the flour mixture and mix it till thick batter.
Take a bread/loaf baking tin, spray with little oil, add prepared mixture, spread it with spoon.
Take banana(topping), peel it and slice it long length wise, place it on batter mixture, top some butter scotch chips over it.
Now place the prepared tin into the preheated oven and bake it for 1hr, test it with skewer, poke it in center if it's come out clean that means bread is ready.
Remove from the oven let it cool down, remove from the tin slice it and enjoy!
• You can use almond meal instead of flour.
• You can add any toppings like chocolate chips, nuts, or dried coconut flakes over it as per your choice.
Recipe by
Binjal's VEG Kitchen
at http://www.binjalsvegkitchen.com/vegan-gluten-free-banana-bread/