Roasted Tomato Pasta with Garlic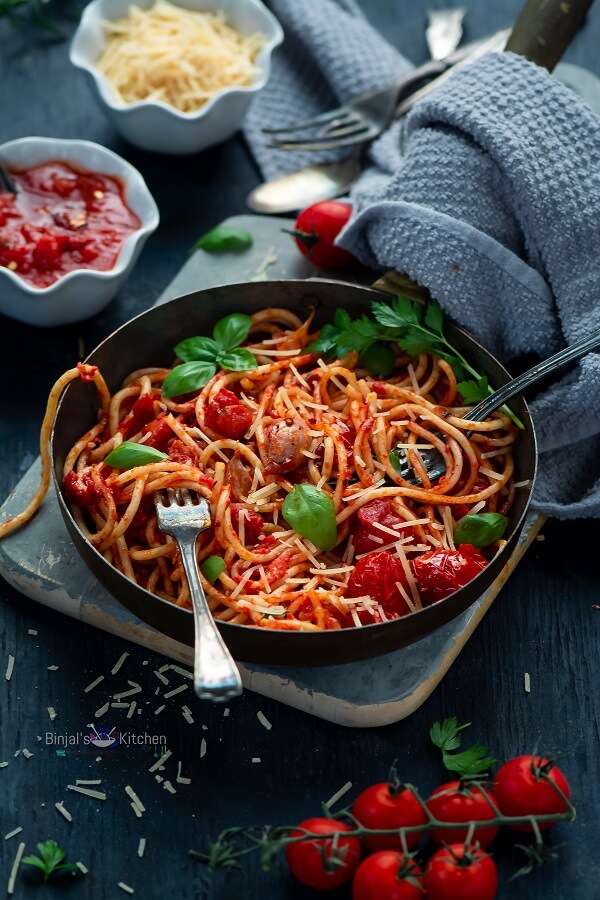 200g/14 OZ Spaghetti Pasta
10-12 Cherry Tomatoes
1 cup Marinara Sauce
1 tsp Minced Garlic
1 tsp Grated Ginger
2-3 Garlic Cloves with Skin
3 tbsp Olive Oil
½ cup Fresh Basil Leaves
¼ cup Chopped Italian Parsley
Salt
¼ tsp Ground Black Pepper
½ Grated Parmesan Cheese for Topping
Cook Pasta/Spaghetti using Packet Instruction or boil 3-4 cup water. Add little salt, once water start boiling add pasta and cook it till tender but do not overcook. Drain it and keep aside, don't rinse.
Now take pan or wok add oil, add minced garlic, grated ginger and garlic cloves stir it for few seconds.
Then add cherry tomato and roast it till soft wilted or until it began to burst.
Now add marinara sauce, chopped parsley, half of basil leaves and stir it till it star boiling.
Add cooked pasta, salt, ground black pepper, chili flakes, toss it and mix it well and again cook for 2 mins.
Roasted tomato pasta is ready. Serve it fresh in a plate topped with grated parmesan and fresh basil leaves.
• You can roast the cherry tomatoes into the oven with sprinkling some salt and spraying oil.
• Do not over cook the pasta to avoid sticky and soft texture.
Recipe by
Binjal's VEG Kitchen
at http://www.binjalsvegkitchen.com/roasted-tomato-pasta-with-garlic/