Strawberry Blood Orange Mojito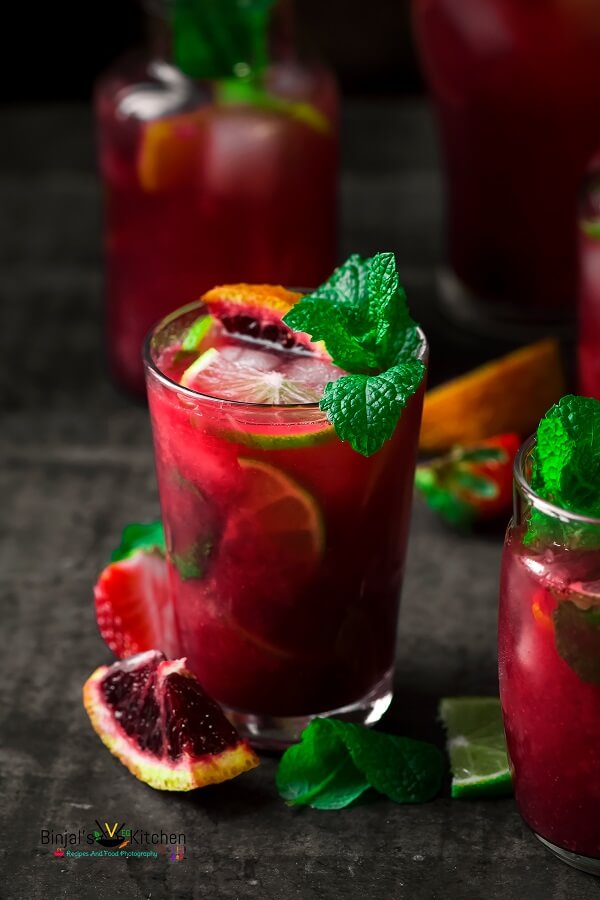 Recipe type:
Beverage & Drink
¼ cup of Fresh Strawberry Juice
¾ cup of Blood Oranges juice
1 Fresh Lime Juice
2-3 tbsp Sugar/4 tsp Agave
5-6 Mint Leaves
Salt
2-3 cup Sparkling Water/Club Soda
Ice cubes
Mint Leaves
Lime Wedges
Blood Oranges Wedges
Take a cocktail shaker or a big bottle. Add strawberry, blood oranges juice and mix it.
Add sugar, lemon juice, mint leaves, pinch of salt and shake it or mix it well until all sugar get dissolved.
Take a few serving glasses and fill it ¼ with the prepared juice, then add ice cubes until ½ glass.
Now add sparkling water until ¾ of glass full, then add remaining juice on top, garnish it with lemon-orange wedges and mint leaves and serve chilled.
• You can make a fruit juice your own at home from fresh strawberries and blood oranges.
• Instead of sugar you can use honey as per your taste.
• You can skip salt, I just added because a pinch of salt makes a cocktail tasteful.
Recipe by
Binjal's VEG Kitchen
at http://www.binjalsvegkitchen.com/strawberry-blood-orange-mojito-recipe-cocktail/