Instant Dahi Vada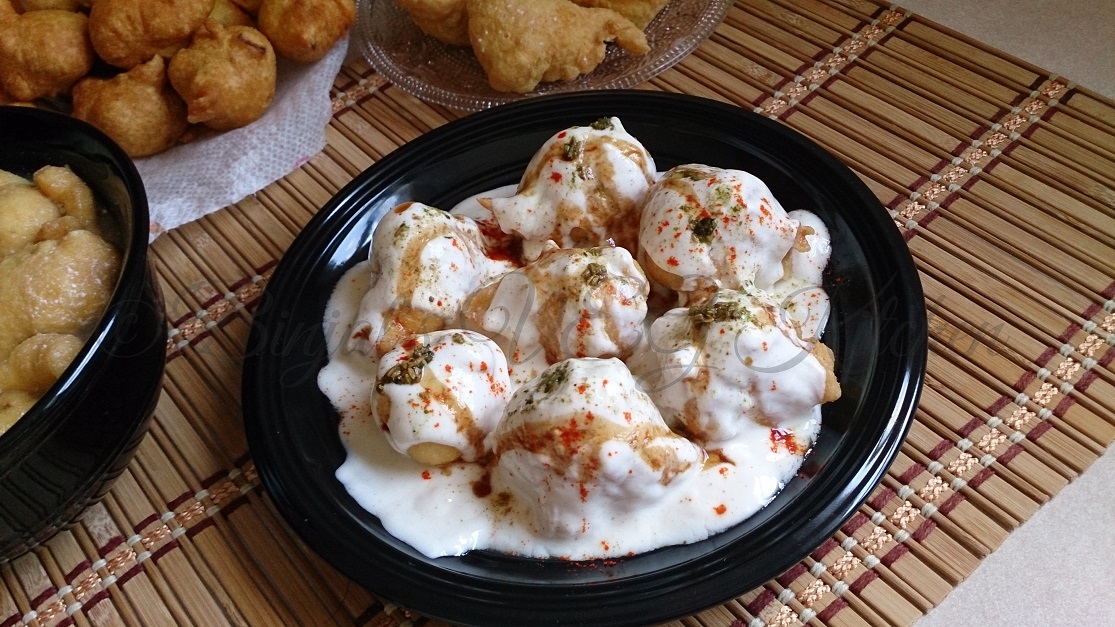 Recipe type:
Streetfood & Chaat
½ cup Mung Dal Flour
½ cup Urad Dal Flour
3-4 slices of Bread
1 tbsp Suji/Semolina
Oil to fry
2 tsp Ginger and Green Chili Paste
Salt
¼ tsp Baking Soda
1½ cup Yogurt
Salt
½ tsp Red Chili Powder
½ tsp Cumin Powder
Tamarind Chutney
Sugar
Green Chutney
Chat Masala
Remove sides (brown parts) of bread and soak in the water for 2 minutes, squeeze all the water from the bread and mash in the bowl.
Now add both flour, suji and then make thick batter like regular dahi-vada batter.
Add salt, ginger-green chili paste, pinch of soda and then mix well.
Heat the oil in a deep pan. Once oil is hot enough for frying; drop a small –small ball in oil using your hand and fry vadas in small batches, until golden all around.
After you have made all the vadas, place them in lukewarm water or buttermilk and soak for about 5-6 minutes.
Lightly squeeze vadas to remove the water and set aside, being careful not to break the vadas.
Mix two cups of yogurt until smooth.
Add a little water as needed to make the consistency similar to dosa batter.
Add about one teaspoon salt to taste, sugar (optional) and mix well.
Slowly pick up each vada and transfer to a serving dish.
Pour yogurt over the Vadas.
Just before serving, sprinkle some salt as needed, cumin powder, red chili powder, chat masala and finish off with a drizzle of tamarind chutney and green chutney.