Chilli Paneer (Indo-Chinese Recipe)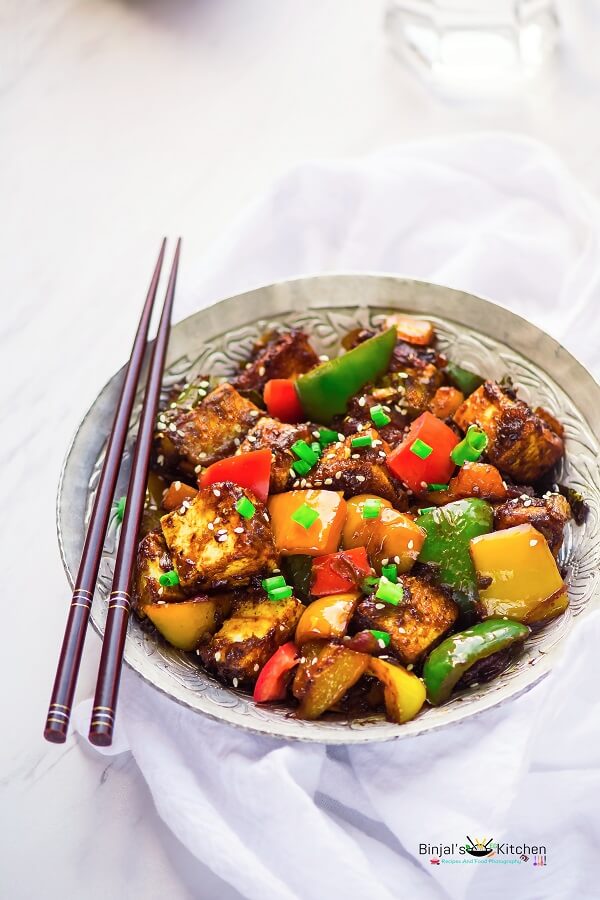 1 cup Paneer Cubes
Oil for deep frying
¼ cup Corn Flour
¼ cup all Purpose Flour/Maida
1 tsp Soy Sauce
Salt
2 tsp Ginger-Garlic Paste
¼ cup chopped Onion
1 cup diced Bell Pepper ( I used Red, Orange and Green)
2-3 Green Chilies finely chopped
1-2 tsp Tomato Ketchup
2 tsp Soy Sauce
1 tsp Chili Sauce
1 tsp Vinegar (optional)
¼ tsp Black Pepper
½ tsp Sugar (optional)
Oil
Chopped spring onion for garnishing
Take a bowl; add corn flour, maida, soy sauce, salt and make a smooth batter by adding ¼ cup of water.
Coat Paneer pieces with the batter and deep fry in hot oil over a high flame till Paneer is golden brown. Drain on absorbent paper and keep aside.
Now take another small bowl; add tomato ketchup, soy sauce, chili sauce, black pepper, vinegar and 1 tsp water and make a sauce, keep aside.
Heat the oil; add the ginger- garlic, chopped onion, green chilies and sauté over a high flame for 1 to 2 minutes. Add diced bell pepper and sauté for a 1-2 min. on high flame. Add already made sauce, salt and stir them on high flame for 2-3 minutes then add fried Paneer, toss and mix well.
Chilli Paneer is ready, garnished with chopped spring onion.
Recipe by
Binjal's VEG Kitchen
at http://www.binjalsvegkitchen.com/chilli-paneer-indo-chinese-combo/