No Bake Eggless Mango Cheesecake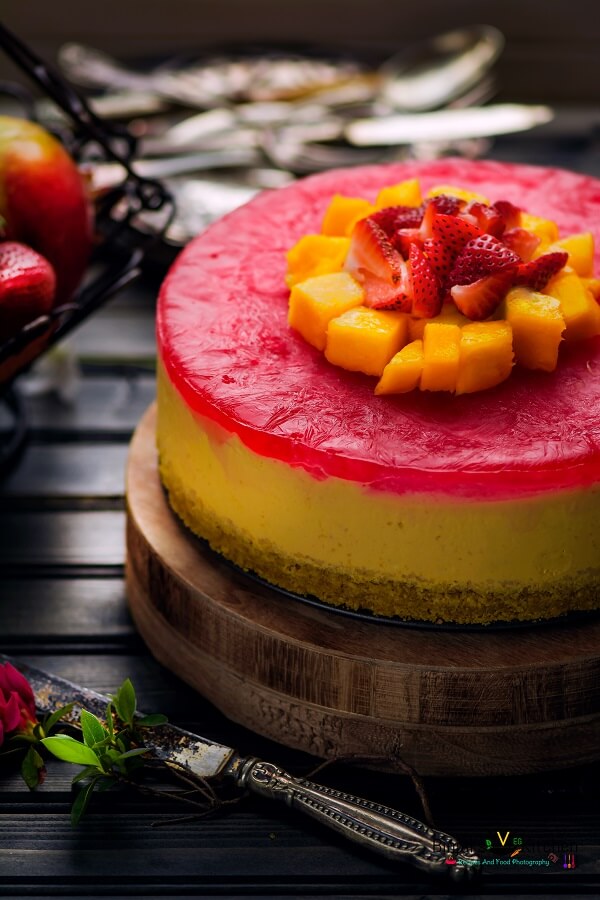 1 ½ cup Crushed Digestive Biscuits or Graham Crackers Crumbs
2-3 tbsp Granulated Sugar
¼ cup Melted Butter
Few Drops Oil for Greasing
4-5 tbsp Agar-Agar Strands
1 cup Fresh Paneer
250grams Cream Cheese (Used Philadelphia Cream Cheese)
½ cup Powder Sugar
1 tbsp Vanilla Extract
1 cup Mango Puree
Strawberry Jelly powder (Used Bakol Gelatin Free Strawberry Jel)
½ cup Chopped Fresh Ripe Mango
¼ cup Chopped Strawberry
Take a mixing bowl. Add crackers crumb, sugar, melted butter and mix it very well using your hand.
Take a pan and brush or spray it inside with few drops of oil, then spread the crumb mixture inside the pan.
Press the crumb tightly using hand plum or flat bottom of cup and make plain surface.
Now place the pan inside the fridge till mango mixture done.
In a food processer, add room temperature cream cheese, fresh crumbled paneer and blend it till smooth creamy texture.
Remove it into the mixing bowl, add powder sugar, vanilla extract and mix it very well till smooth.
Add mango puree and again mix it well using wire whisk and keep aside.
Soak agar-agar strand into a small bowl with required warm water (½ cup) for 20-25 minutes. (this can be done before preparing the Mango layer)
Boil the agar-agar strand till completely dissolve on low to medium flame. Once it dissolves let it little bit cool down, do not cool down completely otherwise it will become solidified use warm mixture.
Add warm agar-agar mixture into the mango mixture, stir it and mix well.
Take the prepared cake pan from fridge, pour the prepared mango mixture over it, use spatula and make plain surface, place the cake pan into the fridge.
After 1-2 hours prepare strawberry jelly as per packet instruction and pour over the mango layer.
Place the cake pan again into the fridge for 6-7 hour or overnight till solidified.
No bake eggless mango cheesecake is ready, loosen edges of the cake spring by passing a blunt knife around it, between cake and sides of pan.
Transfer cake to a serving dish, garnish it with chopped mango and strawberry over the top, cut into slices and serve chilled.
• You can use thick greek yogurt instead of paneer.
• You can use any flavored jelly for top layer.
• For perfect edges slice, run the knife through hot water, wipe it with tissue or cloth and cut the cake immediately for perfect slice.
• You can use readymade mango pulp too.
Recipe by
Binjal's VEG Kitchen
at http://www.binjalsvegkitchen.com/no-bake-eggless-mango-cheesecake/