Aloo Matar Paratha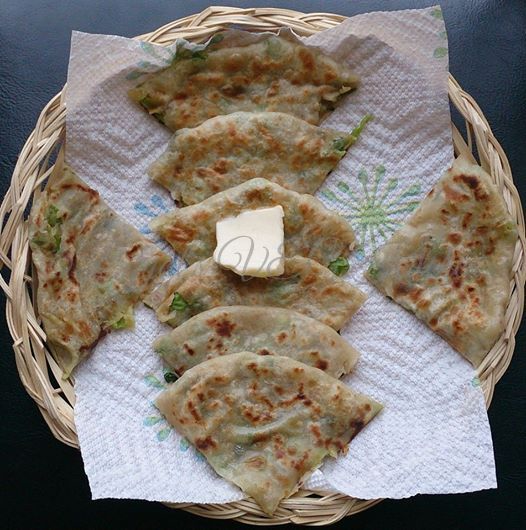 Recipe type:
Indian Bread
2 cup whole Wheat flour
Salt
Oil
4 boiled and mashed Potatoes
1 cup Green Peas boiled and coarsely mashed
1 chopped Onion
chopped Coriander
2-3 Green Chili finely chopped
1 tsp Ginger Paste
2 tsp Lemon Juice
½ tsp Garam Masala
Asafoetida
1 tsp Cumin Seeds
Salt
Oil
Ghee
Add wheat flours with the salt and 2 tsp oil in vessel and mix well.
Add water as required and make a like chapatti dough and keep aside.
Mash potatoes coarsely. Add boiled and mashed green peas and Keep aside.
Heat the oil in a pan, add cumin seeds, asafoetida, onion and fry for at least 3 minutes. Add green chilies, ginger paste and fry again for 1 minute.
Now add potatoes and green peas mixture, salt, coriander, lemon juice and garam masala.
Mix well, cook for 2 minute and Keep aside.
Knead the dough and divide into portion like lemon size balls.
Roll out one portion of the dough into a small circle using roller pin.
Now put the prepared filling into the dough circle.
Bring together all sides in the center and seal tightly.
Roll out again into a big circle with the help of a little flour.
Cook the paratha on a flat pan using a little ghee until both sides are golden brown.
Repeat same process with the remaining dough to make more paratha.
Serve hot Aloo Matar Paratha with butter, curd, ketchup, pickle, etc...