Homemade Classic Marinara Sauce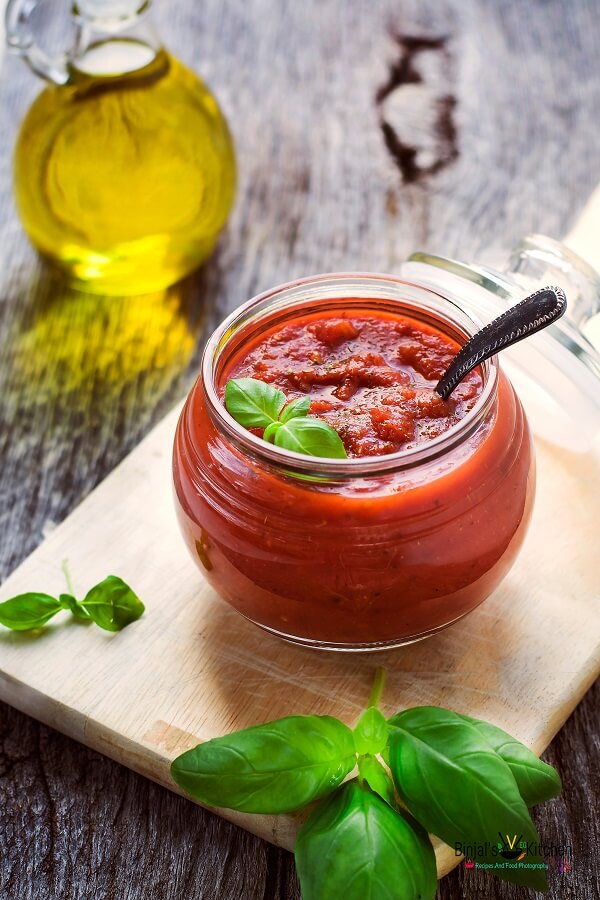 ¼ cup Extra Virgin Olive oil
2 cup Tomato Puree
½ cup Peeled and Diced Roma Tomato
1 Medium Sized Onion Finely Chopped
2 tsp Minced Garlic
1 tsp Oregano
½ tsp Black Pepper Powder
1-2 tsp Crushed Red Pepper Flecks
2-3 Basil Springs
1 tbsp Finely Chopped Fresh Flat Parsley
1 bay Leave
salt
Heat olive oil in casserole or pan. Add minced garlic, finely chopped onion and sauté it till golden brown.
Add diced tomato, tomato puree, black pepper powder, oregano, crushed red pepper flecks, salt and bay leave.
Cook all ingredients with continue stirring on medium flame till sauce become thick.
Once it starts thickening little bit, add chopped parsley, basil spring and cook it again for 3-4 minutes.
Remove it from the flame. Once cool down discard the bay leave.
Now Homemade Classic Marinara Sauce is ready to use immediately or store it into an airtight jar for up to 1 week.
• You can skip onion if you don't like its taste.
• You can use canned tomatoes instead of fresh.
• You can store this sauce into freeze up to 1 month.
Recipe by
Binjal's VEG Kitchen
at http://www.binjalsvegkitchen.com/homemade-classic-marinara-sauce/