Homemade Whole Wheat Pita Bread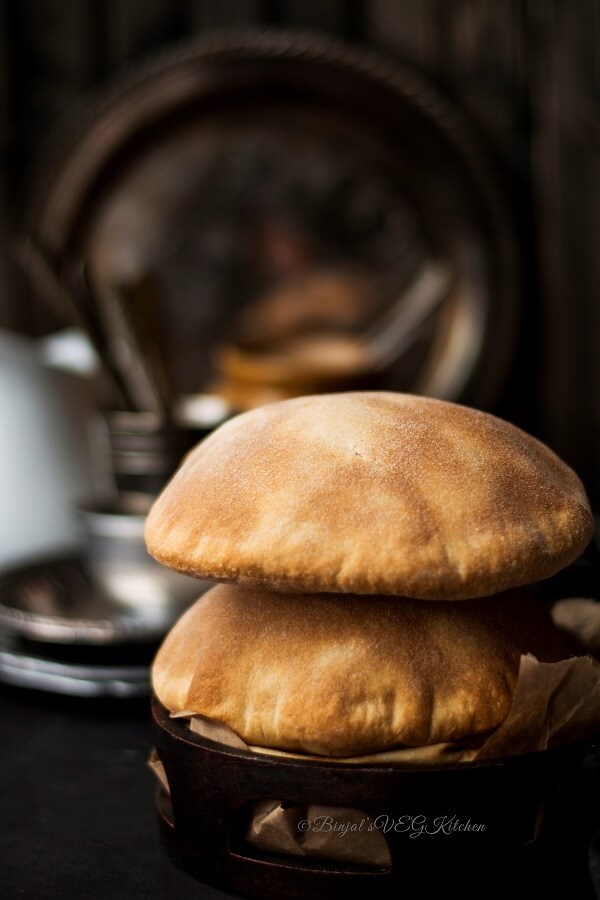 2 ½ cup Whole Wheat Flour
½ All Purpose Flour/Maida
2 tbsp Oil
1-2 tsp Sugar
Salt
1 Packet Yeast (7gm)
Flour for dusting
In big mixing bowl take 1 cup luck warm water, add sugar, yeast, mix it well and cover it for 10 minutes.
Once yeast mixture becomes bubbly and foamy, add salt, oil and mix it with spoon.
Now add both flour, mix well, knead it and make smooth, soft dough (add more water if required).
Cover the dough and keep aside for 30-35 minutes in warm place or till becomes double.
Preheat oven on 500 F
Now divide the dough into the small size balls, cover it and keep aside.
Take one ball, dust it with flour, roll it and make round circle shaped disk.
Once all balls are done, place the prepared disks into the preheated oven and bake it for 7-8 minute or till become fluffy and golden brown.
Once it baked perfectly remove it from the oven, cool it down and then store it into a container for later use or use fresh pita bread for sandwiches pocket.
• You can use only whole wheat flour without adding all-purpose flour.
• You can make them on griddle too without oven.
• Add water as required for dough to make smooth soft dough.
Recipe by
Binjal's VEG Kitchen
at http://www.binjalsvegkitchen.com/homemade-whole-wheat-pita-bread/