Spanakopita Triangles (Greek Spinach Pie)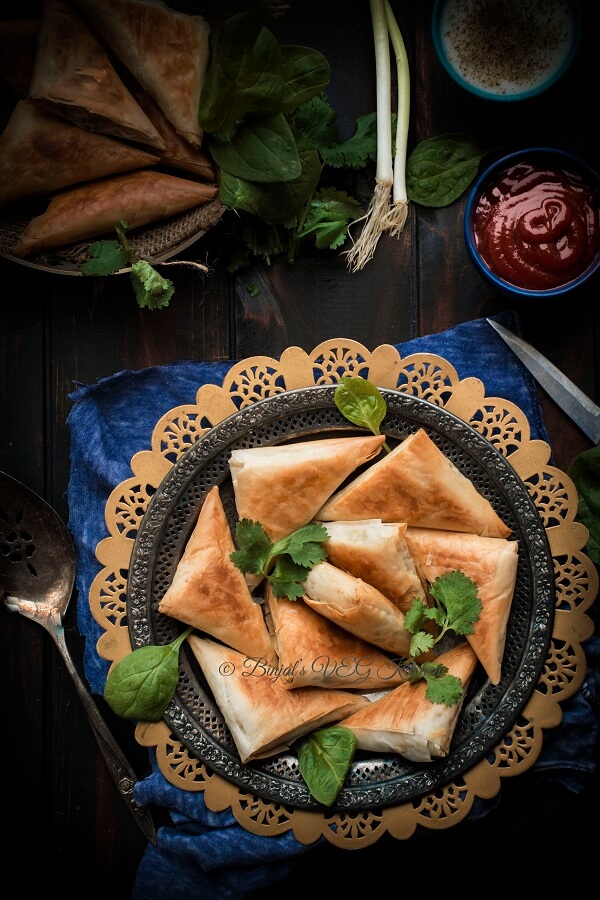 Recipe type:
Appetizer & Snack
1 Large Onion chopped
1 Bunch Spinach (Washed and Roughly Chopped)
1 Small Bunch Spring Onion/Scallion Chopped
2-3 tbsp Dill Leaves Finely Chopped
½ cup Feta Cheese Crumbled
¼ cup Cottage Cheese crumbled (Paneer)
½ tsp Black Pepper
1-2 tbsp Olive Oil
Salt
Fillo Pastry Sheets 1 Roll (Approx. 20 Thin Sheets)
1 Stick Melted Butter
Heat oil in a pan, add onion and sauté for few mins until it becomes golden or soften.
Add chopped spring onion, dill and sauté for 1-2 minutes.
Add roughly chopped spinach, black pepper, salt and cook it on low to medium flame for 5-8 minutes, or until most of the moisture has been absorbed.
Remove the spinach mixture from the flame. Add crumbled feta and cottage cheese, mix it well and keep aside.
Preheat an oven on 375 F/200 C degree.
Take 1 fillo sheet from the stack and brush the entire surface with butter. Top with another fillo sheet and brushing with butter. Now place third sheet, and make top third layer.
Now cut it length wise and divide into three long strips.
Place 2 teaspoons filling in the corner of the each strip. Just like you would fold a flag, fold the corner of fillo over to enclose the filling, make a triangle, and continue folding the entire strip. Ending with the seam-side down.
Now place the triangles on a large baking sheet/tray and brush the tops with butter. Follow the same steps with the remaining sheets.
Place it evenly on a sheet/tray and bake until golden brown, about 18-20 minutes. Remove from the oven and transfer to a wire rack to cool slightly.
• You can skip the chopped dill leaves if you don't like.
Recipe by
Binjal's VEG Kitchen
at http://www.binjalsvegkitchen.com/spanakopita-triangles-greek-spinach-pie/