5 Minutes Microwave Potato Chips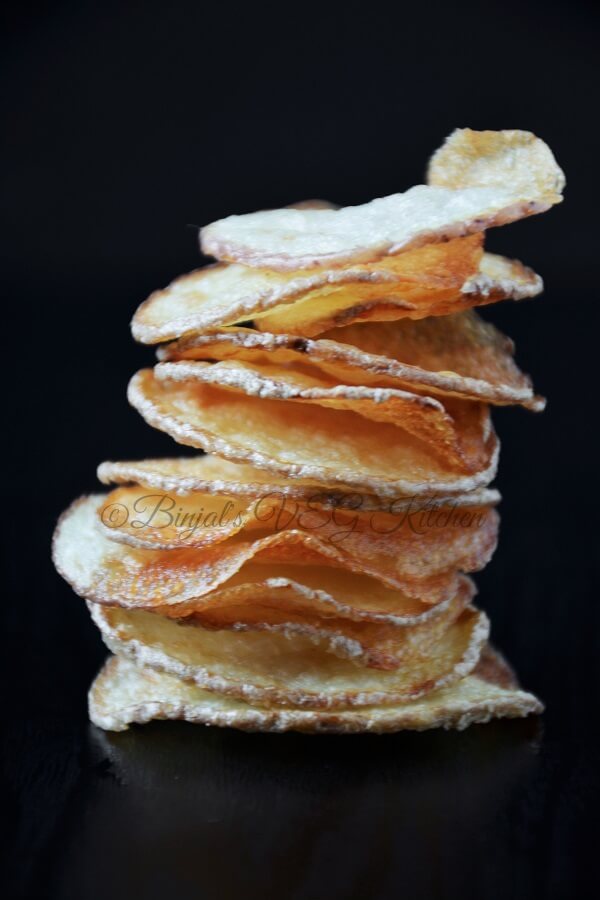 2-3 Potatoes
Oil (Brushing and mixing)
Salt
Wash potatoes and make thin slices using the potato slicer or you can use the sharp knife and make thin slices.
Take a bowl or container, and add potato slices, ½ tsp oil and 2-3 pinch of salt in it.
Mix all slices very well. If you are using container then cover the lid and shake it well, so oil coat the chips easily.
Take a microwave safe plate, grease it with oil then arrange all slices in thin single layer on the plate.
Place the plate in the microwave and cook it for 4-5 minutes in high (full power) till slightly golden brown.
Remove the plate, be careful because the plate will be hot that time.
Repeat the process for remaining slices to make more chips.
Your 5 Minutes microwave chips are ready, sprinkle some salt if needed and serve.
• You can use sweet potato for chips.
• After mixing the slices in oil and salt, it will make moisture like water remove or drain it before placing on the plate.
• Cook chips until light brown. If chips are not brown then it won't be crispy.
• When cooking chips, check it after 4 minutes otherwise it can be burnt.
• You can sprinkle black pepper powder or any seasoning as per you choice.
Recipe by
Binjal's VEG Kitchen
at http://www.binjalsvegkitchen.com/5-minutes-microwave-potato-chips/