Grilled Sprouts Spinach Kale Sandwich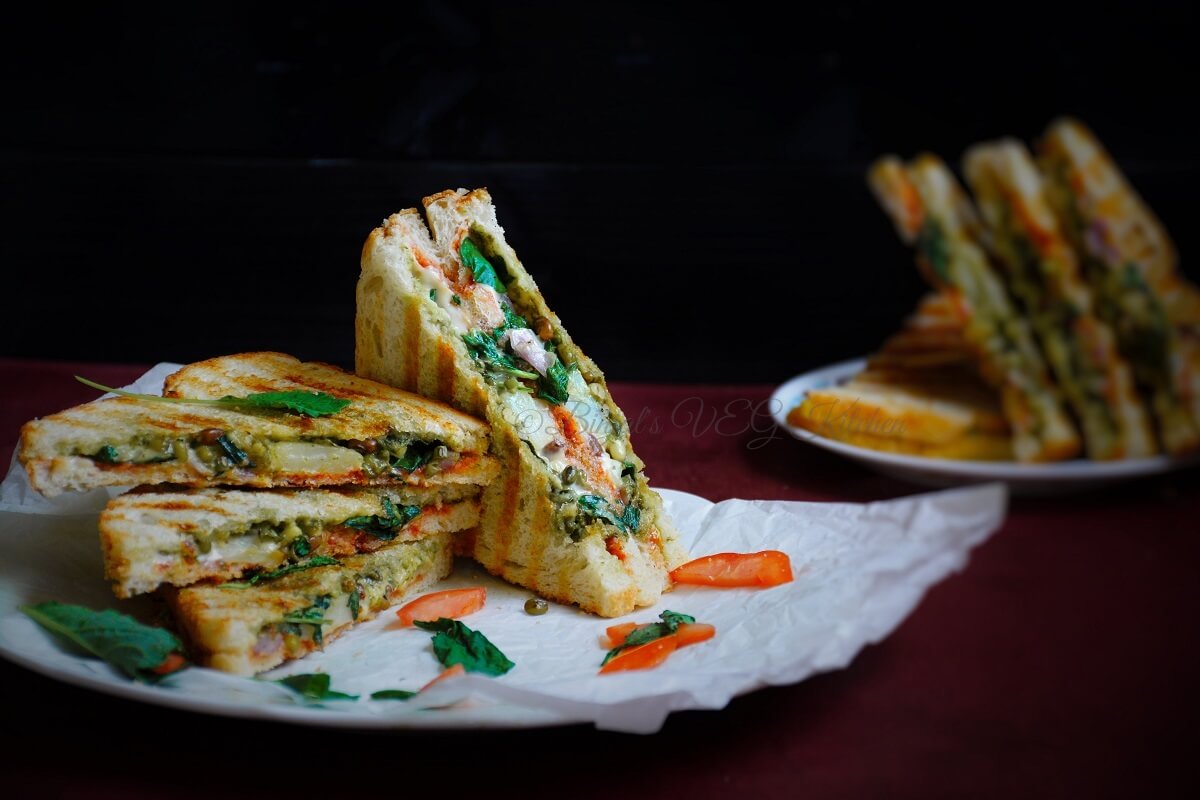 Recipe type:
Appetizer & Snack
Sandwich Bread
1 cup Spinach and Baby Kale Leaves
½ cup Boiled, Peeled and Sliced Potatoes
¼ cup Chopped Onion
1 cup Boiled mix Sprout
1-2 tsp Black Pepper Powder
½ tsp Chaat Masala
Salt
Cheese Slices
Melted Butter
Green Chutney (Coriander-Mint)
Tomato Ketchup
Wash and clean Spinach and Baby Kale, and then chop them into a mixing bowl.
Add sliced Potatoes and Onions.
Add boiled mix Sprout, Black Pepper, Salt, Chaat Masala and mix well.
Take slices of Bread, then spread Green Chutney on one slice, and then ketchup on another slice.
Now spread the full of spoon prepared mixture on one slice, put the Cheese slice over it and cover the Ketchup slice bread on it.
Spread lightly melted butter on outer side of the Sandwich, and then either roast or toast or grill both sides of the Sandwich, till it becomes golden brown.
Grilled Sprouts Spinach Kale Sandwich is ready. Now you can serve this as a breakfast or pack this Sandwich with tiffin box and enjoy!
• You can use Brown or Multi Grain Bread instead of White Bread, it's healthier.
• If you don't have Kale you can use only Spinach.
• You can make Green Chutney by blending Coriander Leaves, Mint, Salt and Cumin Seeds in blender using water as needed.
Recipe by
Binjal's VEG Kitchen
at http://www.binjalsvegkitchen.com/grilled-sprouts-spinach-kale-sandwich/