Eggless Cinnamon Apple Cake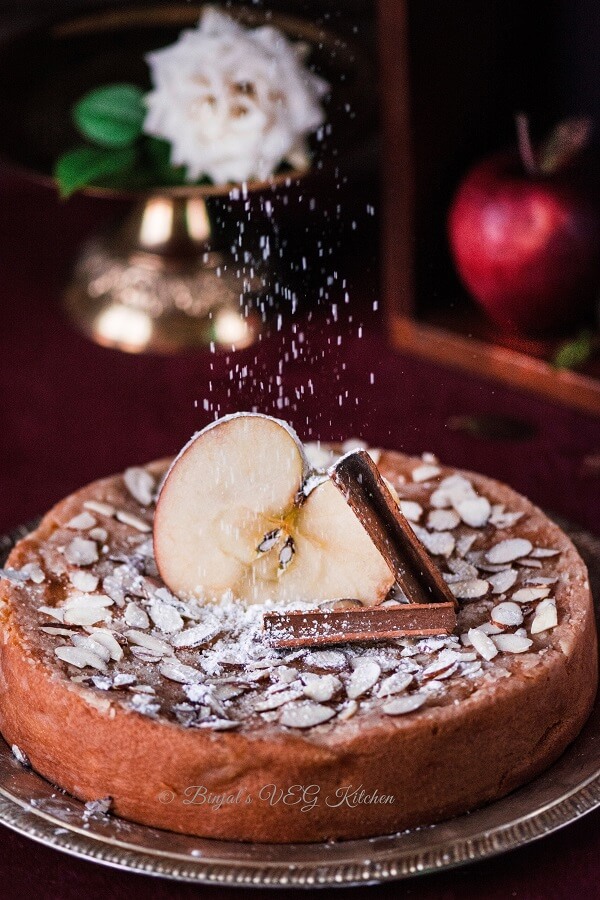 Recipe type:
Baking & Cake
1 cup Apple Peeled and Cubed
2 cup All-Purpose Flour
1 Tin condensed Milk
1 tsp Baking Powder
½ tsp Baking Soda
1 tsp Vanilla Extract
½ cup Warm Milk
2 tbsp. Vegetable Oil
1 tbsp. Vinegar
½ cup Melted Butter (50 gm)
1 tsp Cinnamon Powder
1 tsp Grated Lemon Peel
Preheat an oven on 350 degree f (180 degree c).
Take a large bowl, add melted butter then add Condensed milk and mix well with a wire whisk and keep aside.
Now sieve the flour with baking soda and baking powder in another bowl.
Then add slowly into the butter mixture and mix well, add milk little by little and make a smooth, thick but pouring consistency better (add little more milk if required), then add vinegar, oil and again mix it well.
Now add vanilla extract and mix well, add peeled and cubed apples, cinnamon powder, grated lemon peel (zest) and again mix it well.
Now grease the cake baking tin/tray with butter and dust with flour then pour the prepared mixture into the tin/tray.
Place the tray into the preheated oven and bake it for 50-55 minutes (check using toothpick, insert into the cake if stick comes out clearly that means cake is done else bake another 5- 10 minutes).
Now remove from the oven and turn on to cooling rack, let it be cool down, then cut and serve Eggless Cinnamon Apple Cake.
Heat the pressure cooker and set a thick layer of salt in the bottom of cooker and cover the lid without whistle and heat for 5 minutes. Now place the cake baking tin/tray on the cooker stand in the pressure cooker and cook for 45-50 minutes on medium flame and then check the same process mention in recipe.
• You can use ½ cup milk+1 cup Sugar instead of condensed milk.
• You can add chocolate chips or dry fruit into the cake.
• You can garnish it with dry fruit or liquid chocolate or as per your choice.
Recipe by
Binjal's VEG Kitchen
at https://binjalsvegkitchen.com/eggless-cinnamon-apple-cake/