Thick Poha Chivda (Namkeen)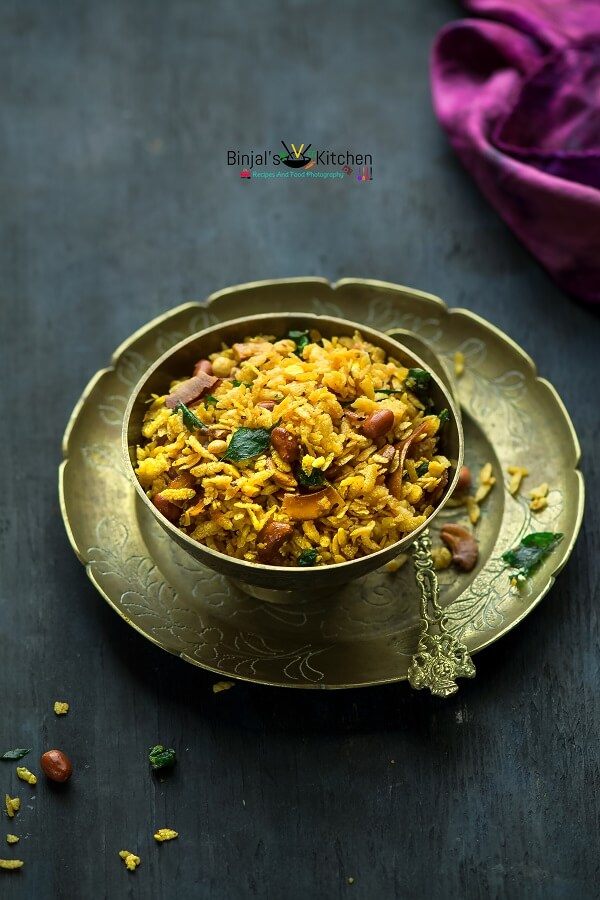 2 cup Thick Poha (Flattened Rice/Bitten Rice)
½ cup Peanuts
½ cup chopped Dry Coconut Slice
¼ cup Roasted Chana (Dalia)
½ cup Cashew Nuts
2 tabs Yellow Raisins
3-4 chopped Green Chili
10-15 Curry Leaves
1 tsp Red Chili Powder
2 tsp Turmeric Powder
Salt
Powdered Sugar (Per Taste)
Oil for Deep Fry
Hit oil in a deep pan for deep frying, when hot enough, fry Poha in small small batches by using fine sieve ladle till they become crisp.
Take large bowl and get all fried Poha in that.
Now fry peanuts till become crispy and crunchy, then add or place it on fried poha.
Same way fry cashew, roasted chana, chopped coconuts slice, raisins, chopped green chili and curry leaves one by one and place it on Poha, then let it cool for 1-2 minutes.
Now sprinkle turmeric powder, red chili powder, salt over the Poha mixture, toss it and mix well.
Lastly add powdered sugar on mixture, mix well again and toss it.
Let them cool down and then store in airtight container.
Recipe by
Binjal's VEG Kitchen
at http://www.binjalsvegkitchen.com/thick-poha-chivda-namkeen/